Foxwell NT530 Multi System Scan Tool
Full Diagnostic Software Systems you can purchase:
Alfa Romeo
Aston Martin
Audi / Bentley / Bugatti / Lamborghini / VW / Seat / Skoda - All VAG vehicles
BMW / Mini / Rolls Royce
Chrysler / Jeep
Daewoo
Daihatsu
Ferrari
Fiat / Alfa Romeo / Abarth / Lancia / Maserati
Ford
Ford AU
Fuso
GM
Holden AU
Honda / Acura
Hyundai / Kia
Isuzu
Iveco LD
Jaguar
Jeep
Kia
Lancia
Land Rover / Range Rover / Jaguar
Lexus
Maserati
Mazda
Mini
Mercedes BENZ, Sprinter, Smart
Mitsubishi
Nissan
Opel / Vauxhall
Peugeot
Porsche
Renault
Range Rover
Rolls Royce
Saab
Scion
Seat
Skoda
Smart
Sprinter
Ssangyong
Subaru
Suzuki
Tata
Tesla
Toyota / Lexus / Scion
Vauxhall
Volvo
VW

Plus this tool will read/clear engine fault codes on all OBD2 vehicles
Updates:
Free Update Period: Free for Life!!!
Each additional Manufacturer Software - $60USD



A Pro Level Scan tool for your vehicle for the price of an entry level tool!
NT530 is the most cost-effective professional scan tool for enthuasists, small garages and specialised workshops and mechanics. It delives OE-Level diagnosis on all the electronic systems including Engine, ABS, SRS, Transmission, Body, Chassis, DPF and many more!
It does not only include basic functions such as read and clear codes and live data, but also is cabale of advanced functions such as actuation and adaptations. In addition, it lets you access the most commonly required service features such as oil service light reset, EPB, SAS throttle body adjustment, DPF regeneration and much more.
You will not find such a comprehensive diagnostic scan tool for any vehicle for anywhere near this price.
The software is professional level diagnostic software which covers all systems on your vehicle. Save hundreds of dollars over the life of your vehicle with this tool. The NT530 can cover older OBDI vehicles with your chose software and it also has a built in OBD2 engine code reading/clearing ability, so it can be used on all OBD2 vehicles for engine faults.
To use this tool you must first register and install the software of your choosing(on a Windows PC). Instructions are included with the tool
Manufacturer Software available for purchase:
Alfa Romeo
Aston Martin
Audi / Bentley / Bugatti / Lamborghini / VW / Seat / Skoda - All VAG vehicles
BMW / Mini / Rolls Royce
Chrysler / Jeep
Daewoo
Daihatsu
Ferrari
Fiat / Alfa Romeo / Abarth / Lancia / Maserati
Ford
Ford AU
Fuso
GM
Holden AU
Honda / Acura
Hyundai / Kia
Isuzu
Iveco LD
Jaguar
Jeep
Kia
Lancia
Land Rover / Range Rover / Jaguar
Lexus
Maserati
Mazda
Mini
Mercedes BENZ, Sprinter, Smart
Mitsubishi
Nissan
Opel / Vauxhall
Peugeot
Porsche
Renault
Range Rover
Rolls Royce
Saab
Scion
Seat
Skoda
Smart
Sprinter
Ssangyong
Subaru
Suzuki
Tata
Tesla
Toyota / Lexus / Scion
Vauxhall
Volvo
VW
Full Tool Coverage List: www.stahlcar.com/foxwellcoverage
Updates:
Each additional Software - $60USD
Each year update - Free for life!!
Kit Includes:
NT530 Multi-System Scan Tool
Nylon Carry Pouch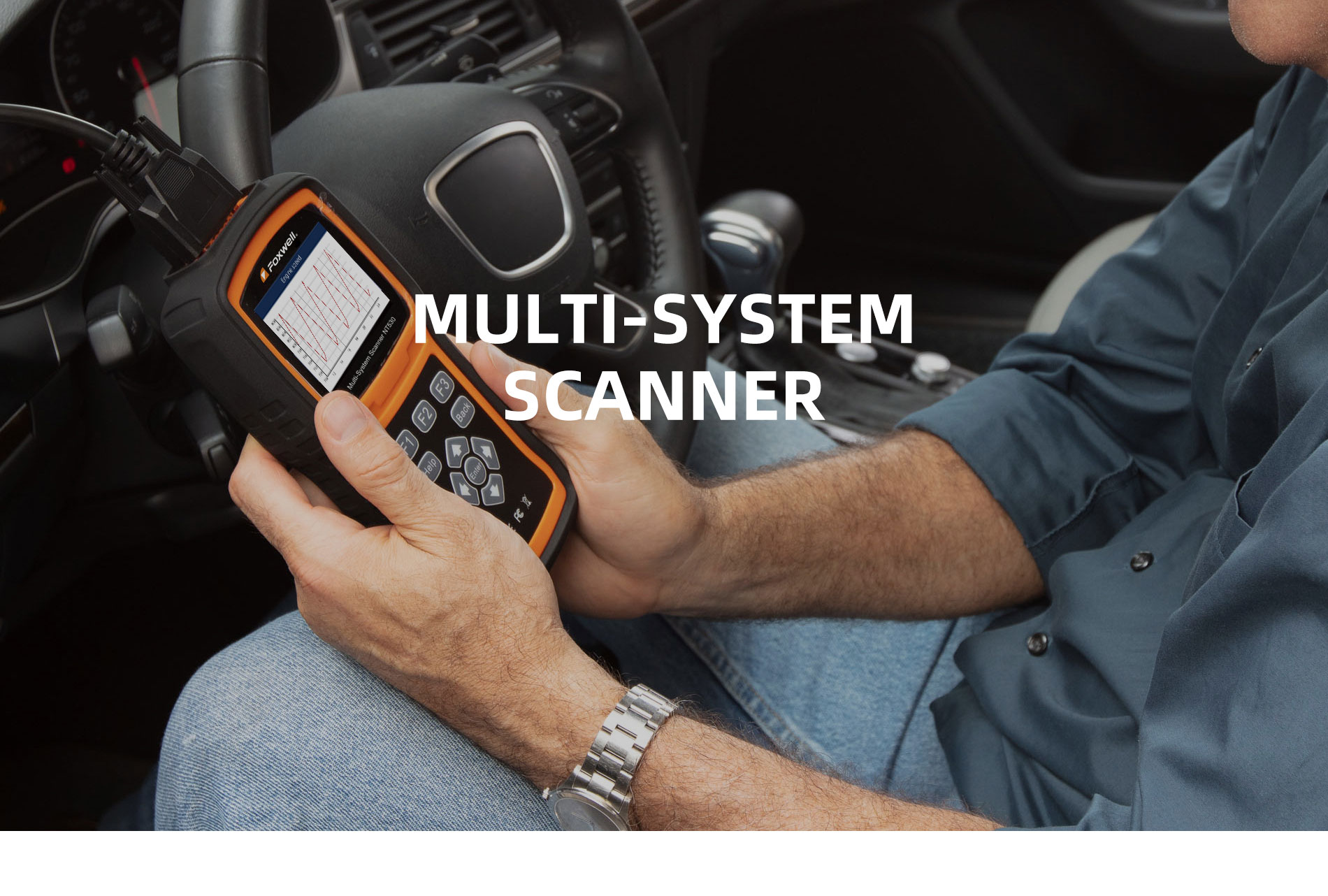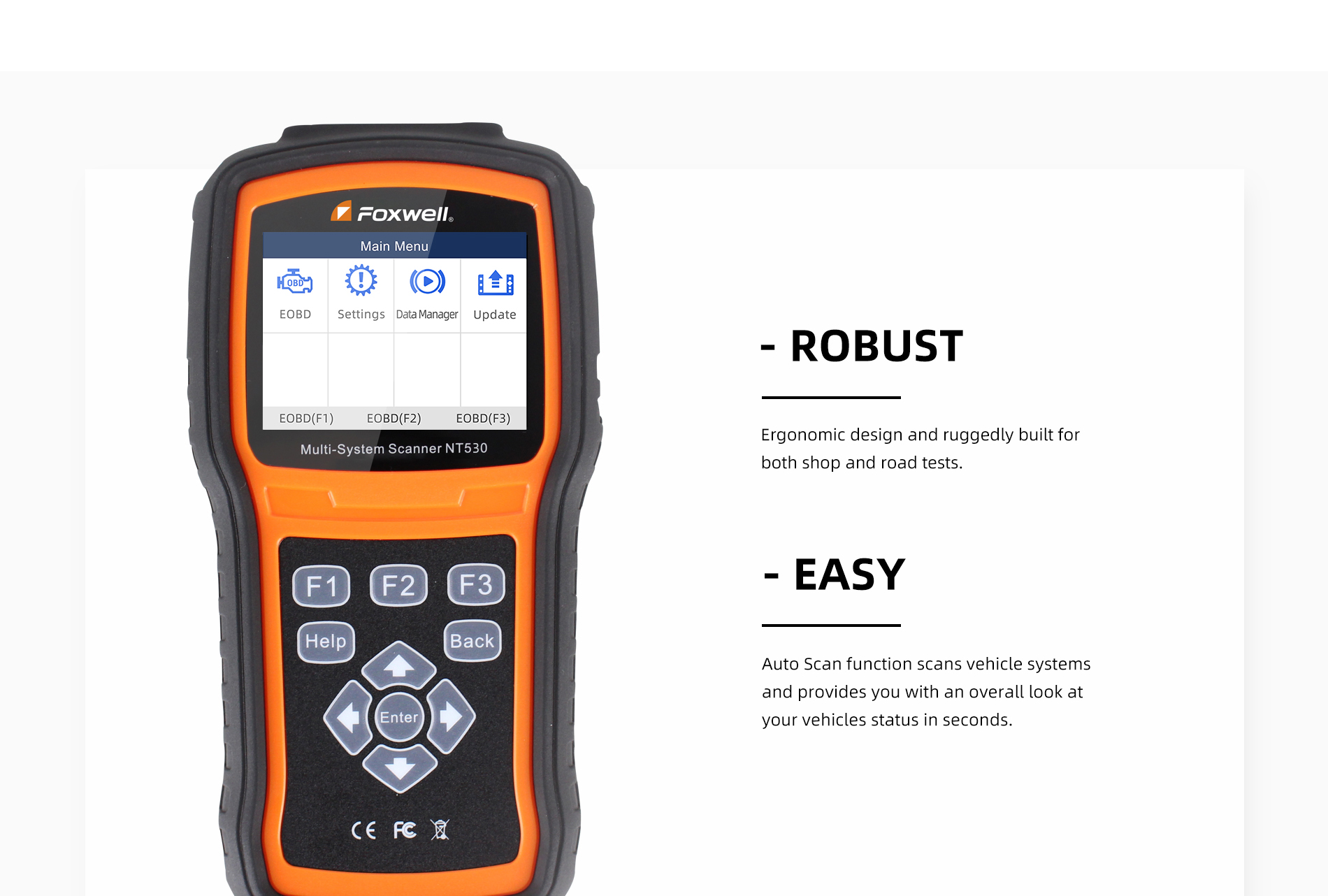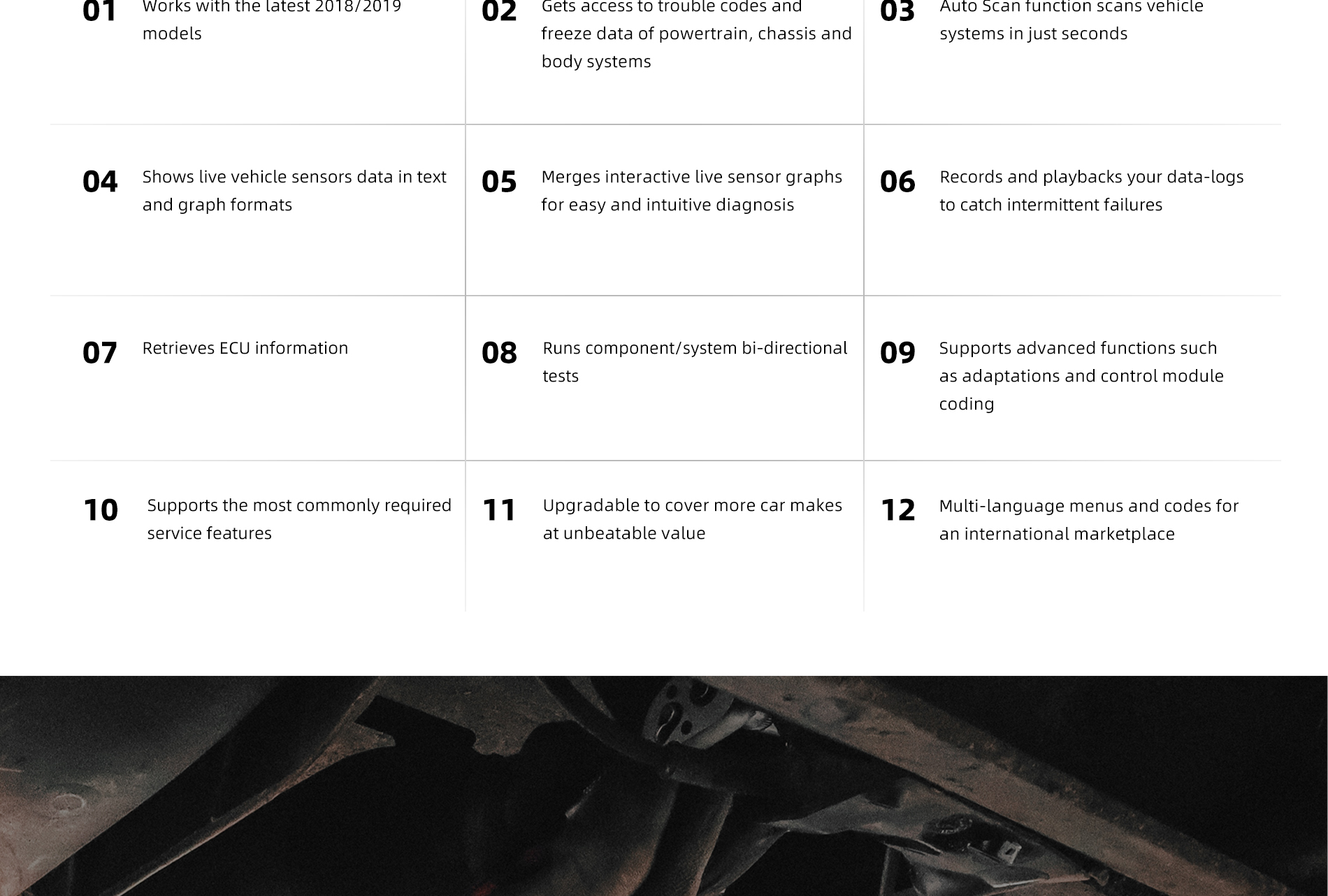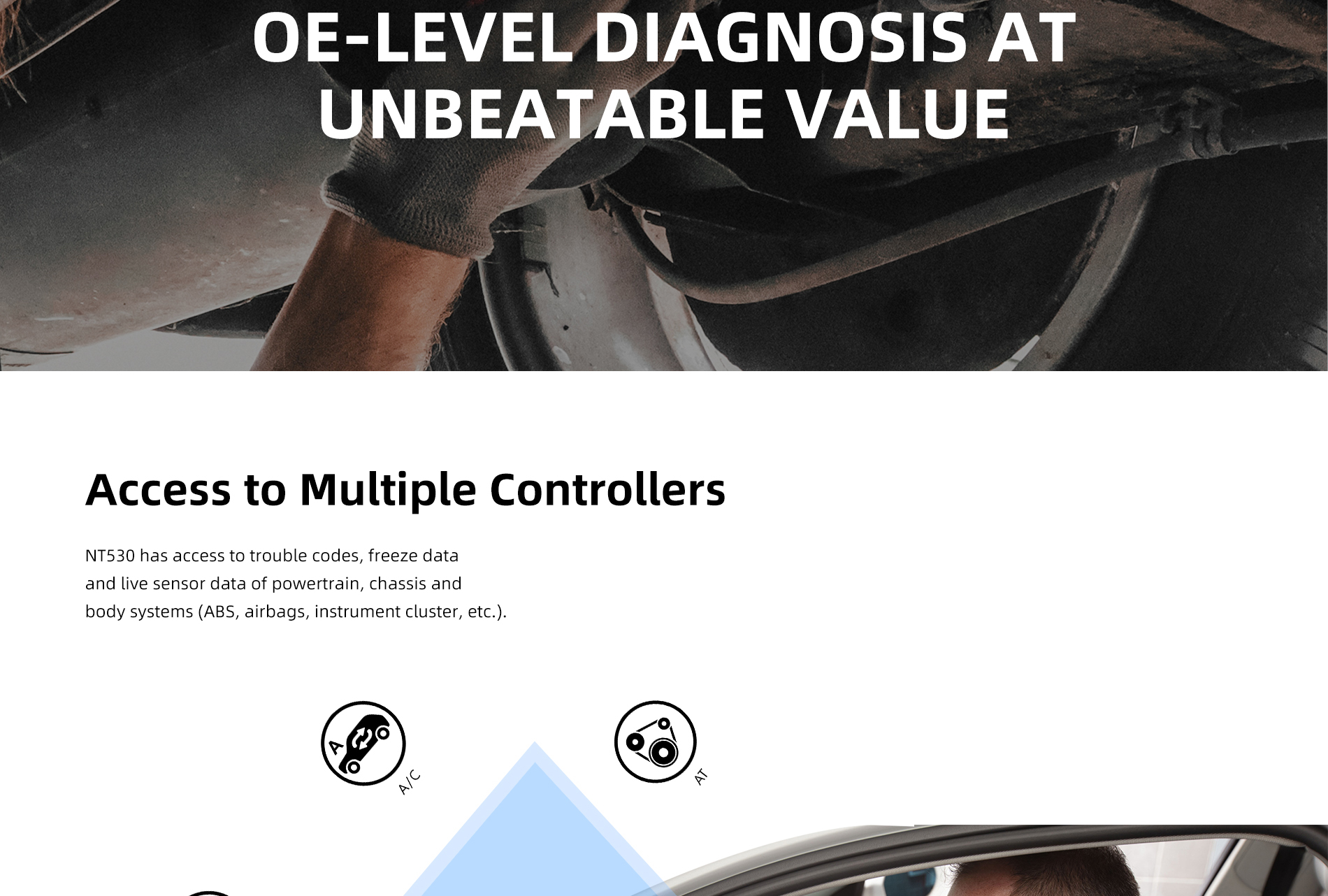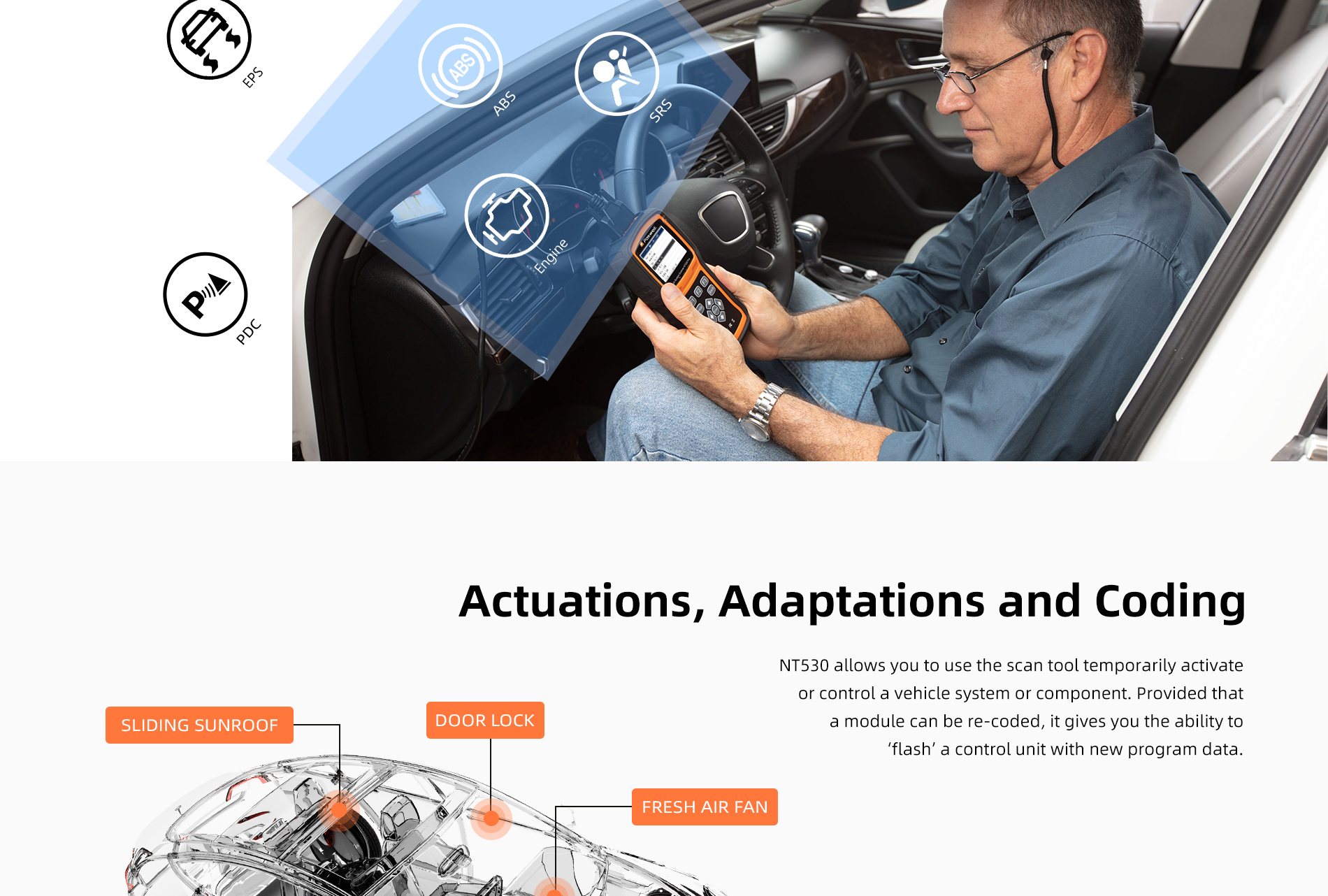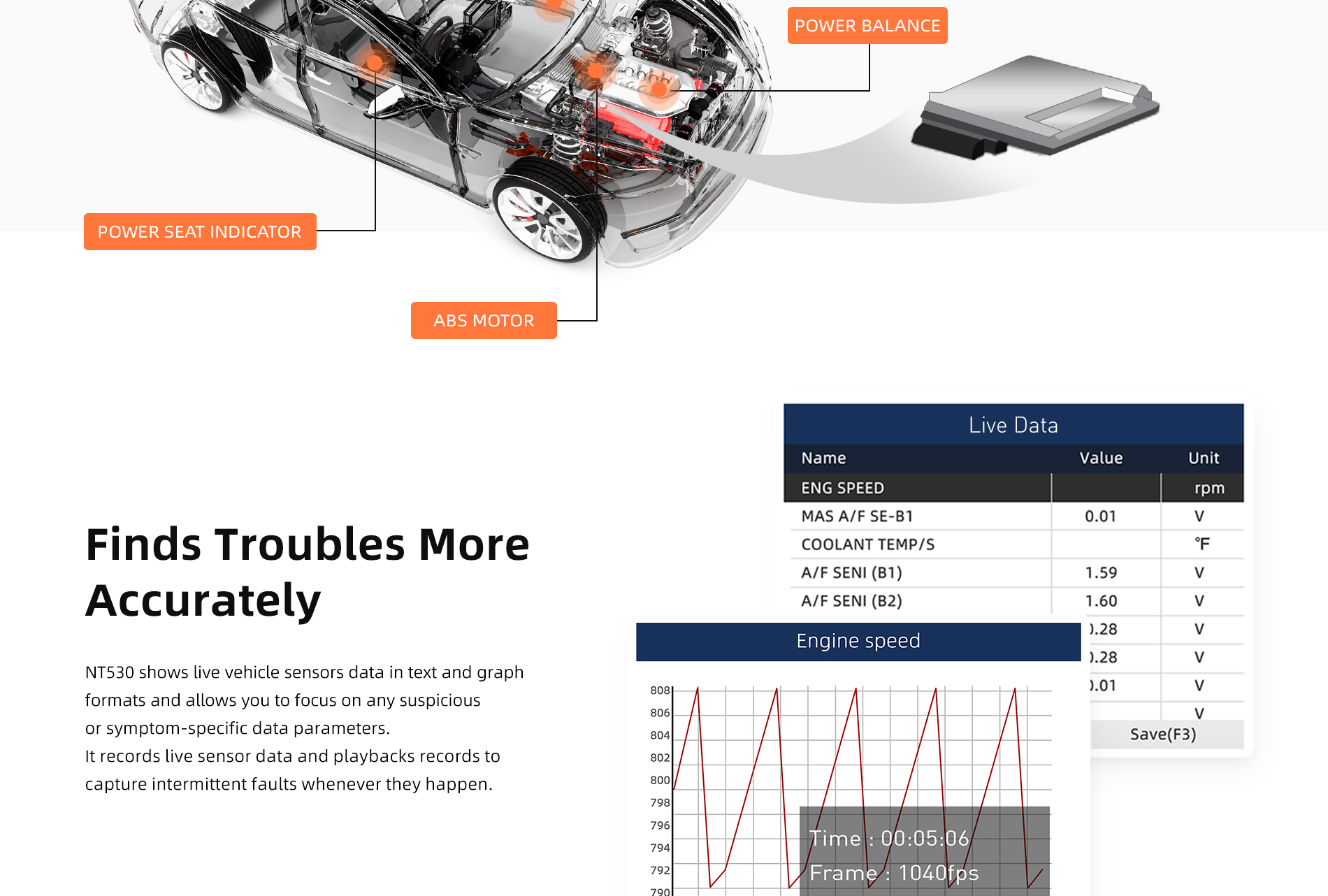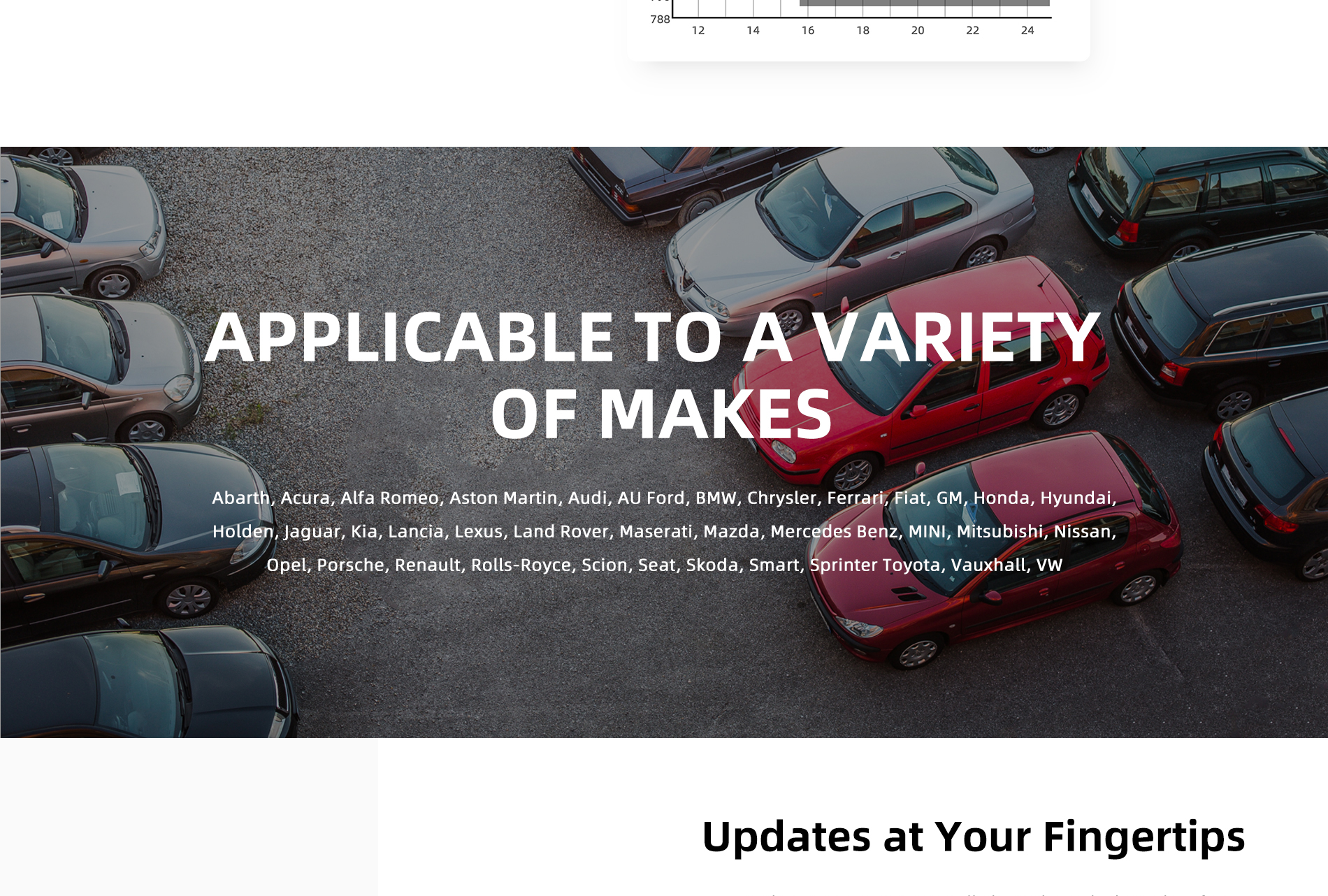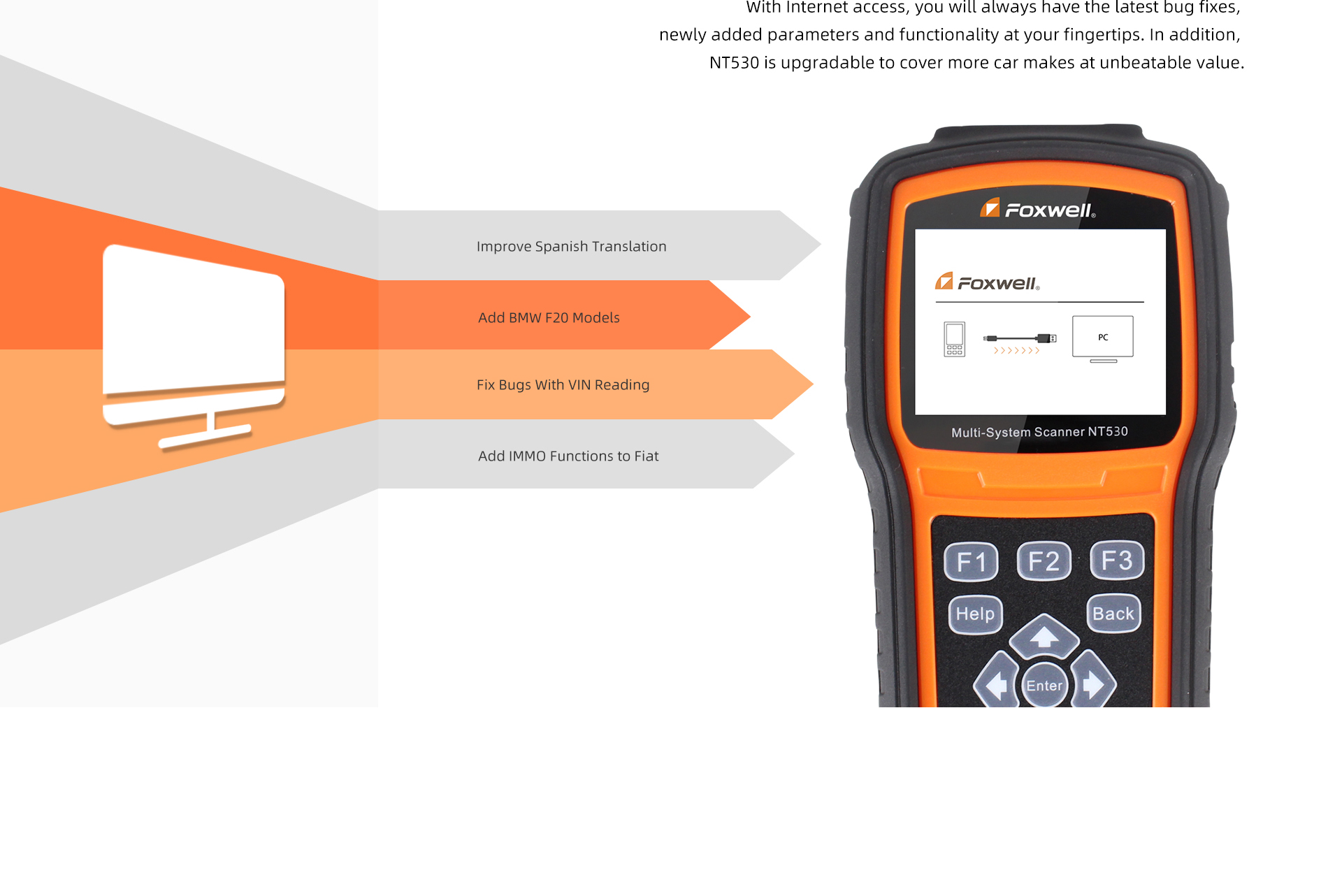 Specifications
Type
Handheld
OBD1/OBD2
OBD1/OBD2
Manufacturer Coverage
User Choice
Systems Coverage
All Systems + Service Functions
Live Data
Yes
Updates
Free for Life
Adaptions
Yes
Coding
On Some Makes
Total Reviews (11)
Click here to write a review of this product.