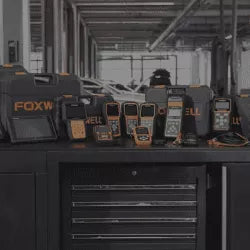 Foxwell Tools on the Web
As the Official Foxwell Scan Tools Distributor for NewZealand we thought we should give a little write up on what Foxwell tools are genuine, parallel imported and even cloned.
We have been one of the longest Foxwell Distributors and have seen the brand blossom from a small start up company to one of the major players on the market today. We knew this brand always had potential and we have seen it's popularitry explode in the last few years. Bceause of this there is a lot of different models out there that need to be explained and as always..beware the clones.
As the Official NZ Foxwell Distributor, all our tools come with Holden and AU Ford software installed. Units purchased from either Ebay, Amazon or Aliexpress do not have this software installed. Similarly if you purchase a new unit on Trademe that hasn't come from us or from approved re-sellers listed on the 
Foxwell New Zealand Website
 then it is a Parallel Imported unit.
Parallel Imports
There are obviuous risks which come with purchasing Parallel Imported units. These can include the risk of being clone units whichcan be poorly made and lead to damage being done to your vehicle. Products sourced through us or Foxwell NZ approved dealers are made specifically for the NZ market.
Sellers which simply purchase from overseas and re-sell do not have access to the backend section of Foxwell which is a must if you have any issues with registration or account issues. We can sort any product issues for you quickly and easily. Currently the only approved local sellers on Trademe are us and Bat Tech Automotive, all others are selling parallel imported and in some cases clones. Don't say we didn't warn you..
The biggest plus of purchasing a local unit is the support and backup. We can provide instant help and if there is any warranty issue we can sort that for you without you having to send the unit back to China. And trust us like all electronic items, a local dealer is gold.
Tool Range
You will see that what Foxwell tools we stock are different from what you might see on overseas websites. Foxwell HQ decided to create 2 seperate product ranges. One is for Distributors which we sell, the other range is for Online Overseas stores. The main difference in tools are:
Distributor:
 NT204, NT530, NT680 Range, NT650 Elite, i70, i80
Overseas(parallel imported):
 NT200 NT510, NT614 NT624, NT634, NT650, GT60
So if you come across any of the above machines then that is a good indication of where they are from. If you ever have any doubt then please ask the seller, if they avoid answering then that speaks loud enough. Some tools are available to both so once again it pays to check before purchase. At the end of the day, the tool you purchase is an investment so if anything goes wrong you want to not only be dealing with someone that sepaks English but also someone local.